Features:
Digital Voltmeter
Variable Test Voltage
Variable Fault Current (5-25 mA)
Master Start Test Switch
Master Reset Switch
Test Magnet Wire Sizes:
12 AWG to 44 AWG
(2mm-0.05mm)
120VAC/5amps @ 50/60Hz
240VAC/2.5amps @ 50/60Hz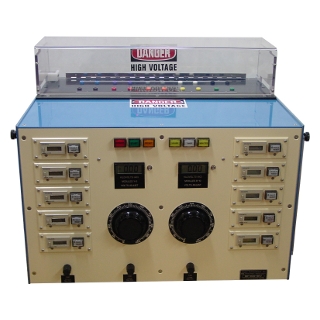 The MP 1000 Voltage Endurance Tester performs the voltage endurance test on twisted pair samples or wire coils in an environmental chamber. The optional chamber can test with high humidity and/or temperature. The tester starts the timer and simultaneously applies high voltage to the samples. It has 10 fault circuit modules and each module determines the time-to-failure of the samples. The time is switchable between minutes and hours with a resolution of 0.1 minute and 0.1 hour. The maximum test time is 99,999 minutes or hours. The test voltage can be set from 500 to 3000 volts at 50/60 hertz.
Dimensions:
18" L x 18" W x 12" H
46cm L x 46cm W x 31cm H
Options:
500-4,500 volts
Environmental Chambers
Custom Features Available