Features:
NEMA or IEC and JIS Specifications
Fault and Length Counters
Carbon (Graphite) Brushes
Constant Speed Drive Capstan
Wire Take-Up Mandrel
Test Magnet Wire Sizes:
44 AWG to 12 AWG
(0.05 mm to 2 mm)
120VAC/1Amp @ 60Hz
240VAC/0.5Amps @ 50Hz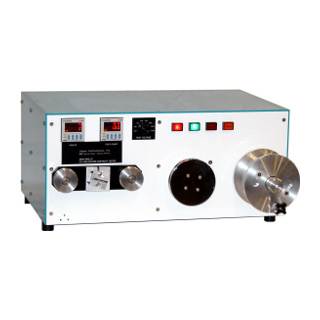 The Nova 1602 D.C. High Voltage Continuity Tester performs the high voltage continuity test on round film insulated magnet wire according to the NEMA or IEC and JIS specifications.
This model incorporates the interchangeable graphite brush test head (HV Sheaves can be used). The tester has a test voltage range of 350 to 3000 volts D.C. The fault current range is 5 micro-amperes at 350 volts D.C. to 16 microamperes at 3000 volts D.C. The fault counter circuit detects faults at a rate of 450 faults per minute when bare copper is pulled across the high voltage test heads at a speed of 60 feet per minute. The fault counter displays the number of
faults detected. The beeper comes on when a fault is detected. The tester has a drive/pickup mandrel that accommodates wire sizes from 44 AWG to 12 AWG (0.05mm to 2 mm). The user-friendly control panel and open layout makes the tester easy to operate. The modular design allows for easy maintenance.
Dimensions:
21" L x 18" W x 10" H
53cm L x 46cm W x 25cm H
Options:
DC High Voltage Continuity Calibrator